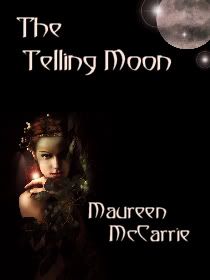 The Telling Moon
by Maureen McCarrie
Format: Kindle Edition
File Size: 92 KB
Language: English

Erotic Fantasy Romance
125,315 words.
Hallia never dreamed when she called the Telling Moon to reveal her one true love that she would find herself falling through a magic mirror and into his very arms. But her wild night of passion with the mysterious stranger changed her forever.
Gavin is haunted by the red-haired temptress of his dreams. He knows he must wed. Knows he must fulfill his destiny as a prince. But how can any woman rival his phantom lover?
The Telling Moon is not finished with her spell... and soon Hallia and Gavin are reunited. Intrigue swirls, questions abound, and trust eludes the young lovers. Yet passion will not unbind them, and they are powerless to resist its lure.
Can she bear to be his mistress and nothing more? Can he trust her to be his soul mate? Spells cast under a misty moon bring two bodies, two souls, two lives crashing together.