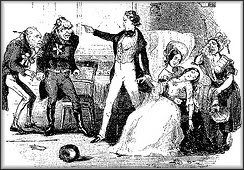 Women in technicolor Southern Civil War movies always look so elegant doing it. Scarlet could collapse on a dime and bring about a riot as handsome men scrambled to be the first to proffer smelling salts. But while Melanie and Scarlett may have pulled off fainting like pros, they came from an age of fainting couches, corsets, and the celebrated chicanery of beautiful, eyelash-batting belles. I'd always wanted to try it.

I'm pretty much over it, now. Tonight I fell flat on my backside at the bathroom door. One moment I was feeling a touch woozy (I'm battling an infection); the next I was lying on my back looking up at something vaguely familiar, furry, and soft. It was spraying my face with a gentle mist. It wasn't anyone dashing, in-- say-- a dove gray waistcoat with a bottle of smelling salts. It was Max, snorting Pug snot all over me in a moment of panic and concerned affection. (It could also have been indignation. My left hand was in his water dish.)

Well, you play the cards you're dealt, I suppose.

Ahmed wasn't with me and my parents were attending an appreciation dinner to which I had also been invited. Not in the mood to be appreciated, with blood and unidentifiable icky stuff coming from several parts of me I'd really rather have sealed off permanently at this point, I stayed home. Ahmed was, much later, quite dashing and sympathetic. He was fresh out of smelling salts and mumbled something about "silly cows" when I mentioned the dove gray waistcoat. I believe that was my delirium talking; he surely wasn't yammering on about bovine IQs while I recovered from my danger-- ummm serio-- errr-- bloody stupid encounter with gravity loss. Still, I think some sort of sterling silver container with smelling salts is the least he could do and I'll be looking into procuring something nice, vintage, perhaps, on ebay.

Anyway, as for the fainting thing-- don't believe the hype. Scarlet and Melanie made it look good on the big screen, but President Bush had it right. You wake up feeling stupid with a dog staring down at you to confirm the sensation.