If you love a writer and are struggling to come up with new ideas this holiday gift-giving season, you are not alone. Being a writer does not necessarily render me exempt from the same struggle, since I love many writers, too. My problem, this year, isn't finding new, cool gift ideas. My problem is picking only one! Technology has made it ridiculously easy to find gadgets, gizmos, and other great gifts for anyone of esoteric-- particularly literati-- leanings.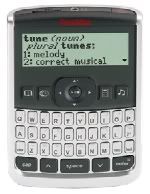 How about THIS little gizmo? Franklin's MP3 Player not only puts a groove in your step, but includes a complete Merriam Webster Dictionary! Imagine your beloved scribe piled into his or her favorite corner down at the Starbucks Cafe with her laptop cracked open, tunes on the earbuds, and a full dictionary dangling around her neck with her playlist. Ultra-coolios! Available at
Franklin's
Website
.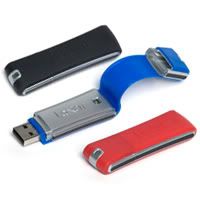 If your writer doesn't have a jump drive WHERE HAS HE OR SHE BEEN? Even if a jump drive or two are hanging around the desk, most writers like having more than one or two. I have one for each publication or larger project. These days you can pick up a nice, small, keychain drive for under 20 bucks, but some of the coolest are LEXAR products. Check out the
Expression
line at their website.
Not sure what to get, but looking for something practical? Are you a DH who wants to get VERY lucky this Yuletide eve? Many writers on a budget long for a domain name of their own but don't want to splurge. Consider
DotEasy
, one of the best webhosts with the best prices. For 25 dollars a year you get a domain, hosting, emails, and support. As an added bonus, maybe you could have attractive business cards made up with your_grateful_writer.com (his or her new domain) on them. Trust me... you will get a VERY enthusiastic response. Double-secure that mistletoe!
New Novelist Software is a clever, useful tool for any writer just starting out. Got a fledgling story teller in your life and want to give encouragement? This would be a great way to do it. Showing your creative genius you believe in him or her with a helpful program like this one-- and a nudge-- is a great way to show both support and practicality. Reasonably priced, this is a gift nobody else will think of giving, but one that will be appreciated.
Most of us love getting magazines, but don't want to spend the money for a subscription. Writers are particularly fond of trade magazines, and the journal of preference for most is
Writer's Digest
. While it does have a lot of cheesy advertising, it also provides great resources regarding retreats, conferences, contests, and tips every writer should have. Consider this show of support that comes once a month for a year.